Home / Services / Overview
Independent solutions for the management & maintenance of process instrumentation
Envogen has a wealth of experience in providing a complete service that combines the manufacture, supply, calibration, maintenance, repair and asset management of our clients instrumentation. Services are provided nationally to clients in all industries, ranging from the Food & Beverage, Chemical & Petro-chemical, Paper, Dairy, Pharmaceutical, Hospitals, Renewables and Utilities sectors.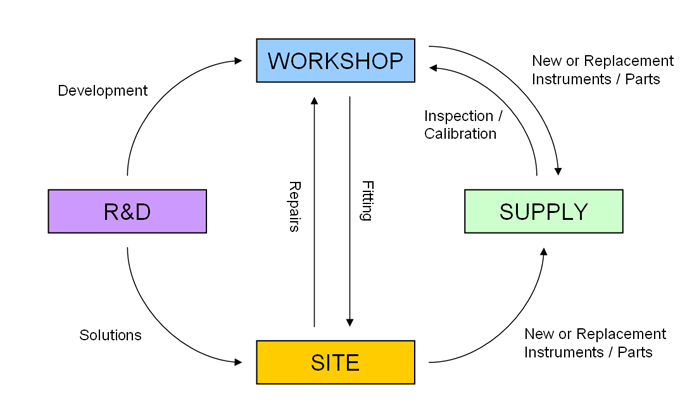 Common Service Questions
Q: Do you require a brand new 'state of the art' solution?
Finding the right instrument for the job can be a difficult task, the manufacturer's literature can be confusing and the cost of making a mistake can be expensive. That is why Envogen regularly help client companies with their instrument purchasing decisions.
Because we operate across a variety of industries we have first hand knowledge of the advantages and disadvantages of newly introduced technologies. We offer our clients the benefit of this breadth of experience and help them avoid the 'hidden pitfalls' that the manufacturers and their agents might not make absolutely clear.
Q: Do you require a solution that offers the best value for money?
Replacing instrumentation can be a costly business and sometimes it might not be necessary to procure 'brand new' when a refurbished instrument with a warranty will suffice.
Because we have our our own in house instrument and fabrication workshops, we are able to offer a wide variety of used equipment that has been fully refurbished and is supplied with a calibration certificate and full warranty.
Q: Do you have instrumentation that is no longer supported by the manufacturer?
There are occasions when replacements can no longer be obtained from the manufacturer. The instrument may well be obsolete - but most probably the job it is doing is not. This can cause problems in seeking like for like compatibility when an instrument goes out of service.
Once again Envogen is in a position to help its clients, we have access to a vast range of spares from a wide variety of sources which means that we can often service equipment that is considered obsolete. The instrument is returned to working order, the refurbishment work is fully warranteed and the compatibility problem is solved.
Q: Is your application unique to you?
Sometimes its not just about purchasing the instrument. If your application requires unique modifications to the instrument, its connections or its operations then Envogen can certainly help. We have a great deal of experience in reprogramming instrument parameters to match process conditions, or fabricating special fittings to facilitate connections to existing plant.
The next step...
Whatever your requirements, Envogen can offer a truly independent and unbiased procurement service that is based on years of experience. Please contact our sales team for further information.